COSMOS ORGANIC
CERTIFIED SKINCARE IS HERE!
SkinCure factories are COSMOS Natural & Cosmos Organic certified.
Our products are truly organic and natural and have a globally recognized certification.
WHY COSMOS?
COSMOS is the leading organic and natural cosmetics standard with global recognition. It is a not-for profit organization formed out of a collaboration between five major European organic and natural certification bodies BDIH - Germany, COSMEBIO - France, Ecocert Greenlife - France, ICEA - Italy, Soil Association - UK. By working together, these five independent certification bodies have created a recognizable and robust cosmetic-product focused certification that both understands and addresses the needs of the market. While the COSMOS brand was developed in Europe, it has a global reach and is fast becoming one of the most recognized certification systems in the cosmetic world. We strive to provide outstanding organic skincare to our customers while embracing an environmentally sustainable focus – and COSMOS is the perfect fit.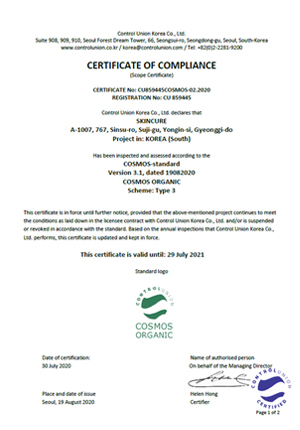 Vegan Certified
SkinCure products are certified vegan by the Vegan Society, which was founded in November 1944 and made tremendous progress since. The manufacture and/or development of the product, and where applicable its ingredients, must not involve or have involved, the use of any animal product, by-product or derivative. Any product developed, manufactured, or both, including its ingredients, must not involve (or have involved) testing of any sort on animals. The development and/or production of GMOs must not have involved animal genes or animal-derived substances. SkinCure products meet all these demanding conditions and are certified vegan.
WHY VEGAN SOCIETY?
The Vegan Trademark is the authentic international vegan standard and is managed by The Vegan Society; the charity that created the word 'vegan' back in 1944. They dedicated and experienced vegan team check each product application against the below criteria, working with manufacturers and suppliers across a range of fields to ensure that each product meets the highest vegan standards. The Vegan Trademark renews on each product annually, allowing for accurate and up-to-date information. They're as determined as ever to promote vegan lifestyles for the benefit of animals, people and the environment.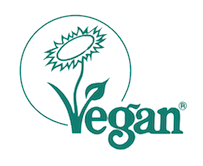 Vegan Society – Vegan trademark
NATURAL RESOURCE
SkinCure Life Science Institute conducts basic research for discovery of anti-aging, brightening,
hair growth, obesity, anti-inflammatory and anti-bacterial efficacy of natural ingredients derived
from more than 200 species of plants indigenous to Jeju Island.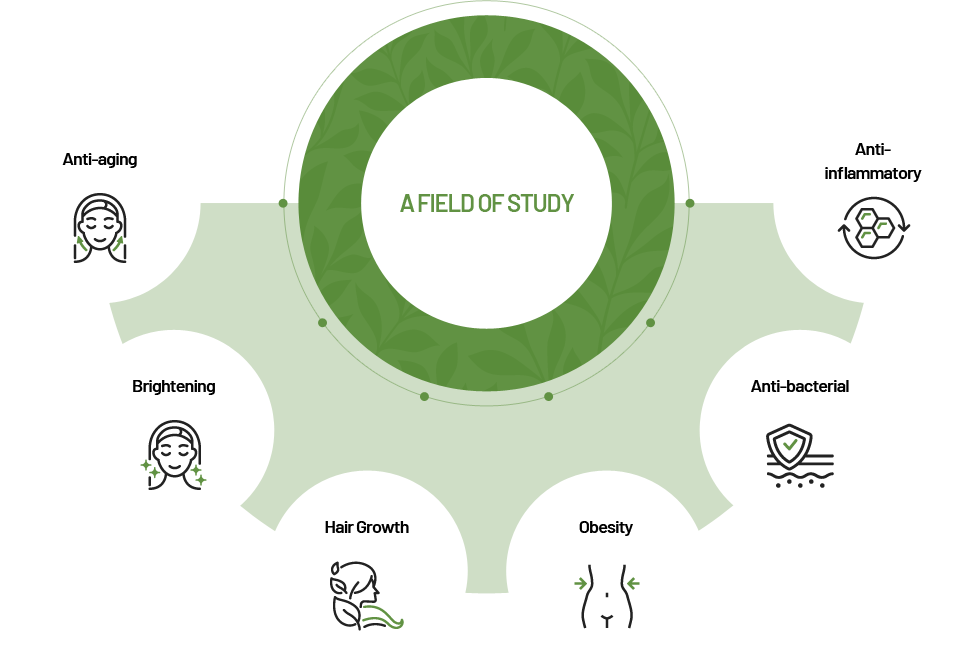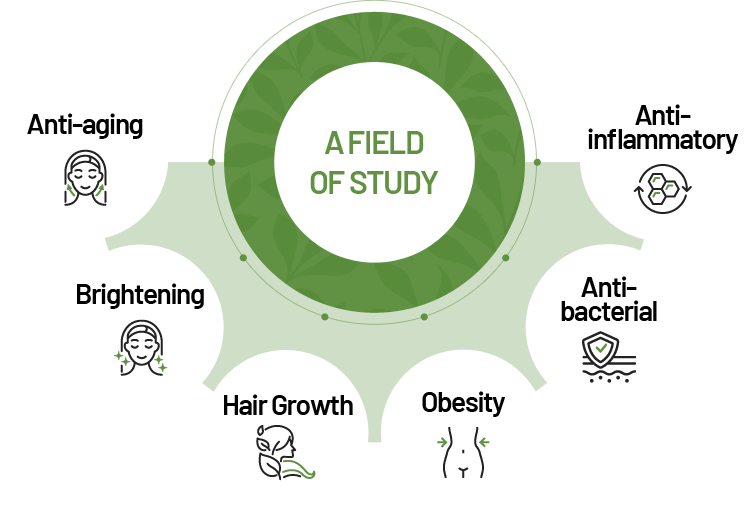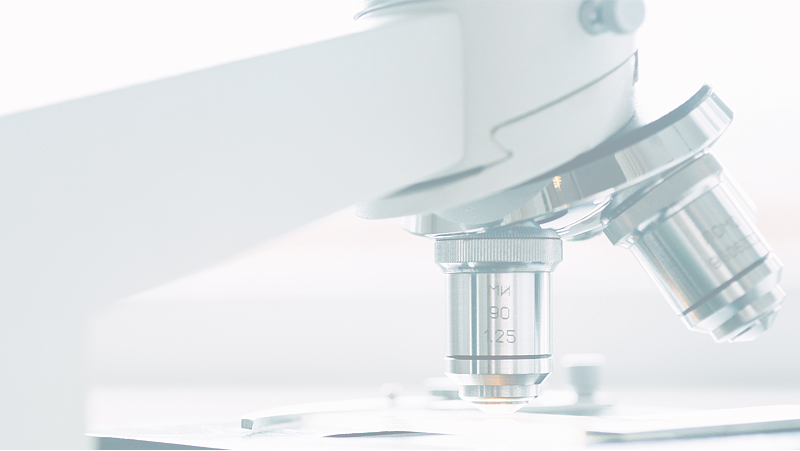 FORMULATION
Finished product
with a liposomeformula Electron microscopic
observation Hydrophilic actives
Hydrophobic actives
Structure of multi-layered
liposome is similar to cell
membrane Start of the fusion between
the cell membranes Celiver the lipophilic and
hydrophilic active
compounds to cell
membranes
Patented Multiple Layered Liposome
The membrane of multi-layered liposome is composed of lipid bilayers, which is capable of embracing both water-soluble and water-insoluble materials in one formulation at the same time. Multi-Layered Liposome (MLL) is made of several concentric bilayers in vesicle-forms by entrapping small liposomes into larger liposomes. This enables MLLs to encapsulate large amounts of both hydrophilic and hydrophobic active ingredients. Hydrophilic actives are contained within the liposomes and hydrophobic actives are trapped between the lipid bilayers. The structure of liposome is very similar to that of skin, so it is very compatible with skin and penetrates skin layers easily. Multi-layered liposome transports important active substances into the skin and greatly boosts the skin's moisture content within a short period of time. Proteins, peptides and other ingredients can be contained together in one formulation by using liposome.
Domestic patent registration (No. 10-0461458)

International patent registration (PCT/KR2004/001989)
무기자차 (물리적 차단 방식)
논-나노 입자
Sunscreen Technology
SkinCure develops physical Sunscreens designed for infants or people with sensitive skin. It is often based on titanium dioxide and/or zinc oxide, as these mineral UV blockers are believed to cause less skin irritation than other UV absorbing chemicals.
Natural Surfactants
Skin cleansers have evolved from merely cleansing to providing mildness and moisturizing benefits as well. Synthetic surfactant, commonly used as cleaser, is the prototypical surfactant used in skin-cleansing products. Harsh surfactants in cleansers can cause damage to skin lipids and proteins, leading to after-wash tightness, dryness, barrier damage, irritation, and even itch. The structure of natural surfactants is often tailored to minimize damage to the stratum corneum. A significant breakthrough in cleansing came with the introduction of mild cleanser containing Disodium Cocoamphodiacetate, Sodium Lauroyl Glutamate, and Lauryl glucoside as the cleanser and long-chain fatty acids as the moisturizing agents. Current liquid cleansers use natural derived surfactants to reduce protein damage and skin irritation potential of anionic surfactants.

- Disodium Cocoamphodiacetate : EWG score 1, Derived from Coconut oil fatty acids
- Sodium Lauroyl Glutamate : EWG score 1, Derived from Coconut oil
- Lauryl glucoside : EGW score 1, Derived from from palm oil and glucose from corn